INDUSTRY-LED PARTNERSHIPS
Next Generation Business Engagement
From Transactional to Transformative Industry Partnerships in Workforce and
Economic Development
There is a long history of business involvement in shaping economic development, education, and workforce development. But, too often, business engagement is limited to narrow advisory roles, or a one-on-one approach to business services. While these approaches have important roles to play in shaping responsive programs, the competitive realities of today's economy, as well as changes in the education and workforce policy landscape, require a deeper and more strategic level of business engagement.
Collaborative Economics' approach to next generation business engagement centers on authentic and sustained industry partnerships that allow for business to work collaboratively with public partners to improve economic competitiveness and prepare workers with the skills they need to succeed.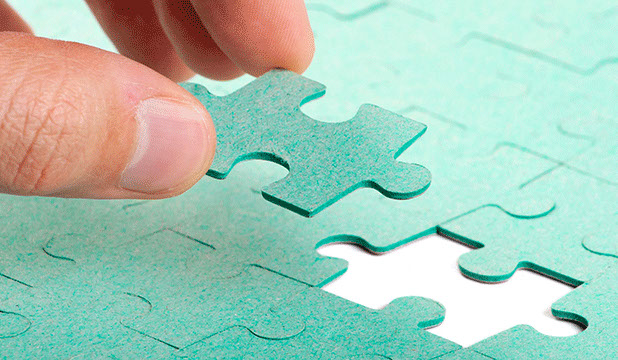 Results of the Next Generation Approach

Transforming public programs to engage employers as partners, not customers. As partners, business leaders will co-own solutions and work with community partners to strengthen industry competitiveness and improve the talent pipeline. As customers, they will expect community partners to do the work after identifying "pain points" through focus groups or surveys. Embracing this approach transforms how economic development, education, workforce development, and other community organizations and agencies do business, resulting in more sustained impact on workforce and economic development outcomes.

Authentic, sustained business engagement is not easy to achieve, but is possible with the right approach. Working on behalf of states and regions, Collaborative Economics advises practitioners and system leaders on practical strategies for launching and sustaining industry-led sector partnerships. These partnerships serve as vehicles for collaboration among business, workforce and education to align workforce training with industry needs and promote industry competitiveness and growth.
We also advise leaders on aligning education, workforce, and economic development to support sustained business engagement. This includes moving beyond special initiatives, grants, and programs to incorporate strategic business engagement into a wide array of education, workforce, and economic development efforts.
In addition, we work with a range of community organizations—workforce development, community colleges, economic development organizations, and others—to develop tangible strategies that enhance their role as partnership broker and convener as well as service provider.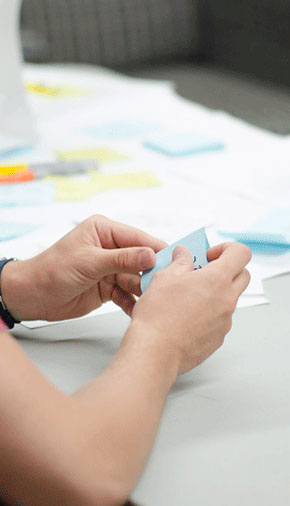 Specifically, we offer:
Analysis to inform industry mobilization

, including analysis of industry value chains, business growth, industry transformation, and workforce implications

Direct assistance

in preparing and launching regional, industry-led sector partnerships

Trainings, customized technical assistance, and advising

for practitioners and system leaders on launching, supporting, and sustaining industry-driven, community-supported sector partnerships

Facilitation of peer-to-peer learning

among practitioners to exchange strategies and lessons learned

Documentation of promising practices

identifying the core strategies underpinning successful business engagement

Advising on strategies for measuring success

and reporting outcomes of business engagement strategies


Economic growth and environmental improvement is not a zero sum game; the clean economy presents opportunities to save customers money and protect natural resources while also spurring growth in businesses. The clean economy includes a range of businesses that provide the products and services that allow the entire economy to reduce carbon emissions and improve efficiencies in the use of natural resources. The clean economy includes, but is not limited to, sectors such as renewable energy, smart grid, advanced transportation, energy storage, water efficiency, and energy efficiency. These products and services can save customers money, increase comfort and convenience, and improve the environment while also creating new business opportunities.
Businesses are increasingly recognizing the opportunity to develop or transform their products and processes to integrate clean technologies, driven by the need to stay competitive as consumer demand increases and natural resources become scarcer. This transformation is beyond creating green jobs or one-off "green" products or services; it is a more systematic shift that is occurring across the spectrum, from traditional energy (towards cleaner, more distributed generation) and transportation (towards more efficient modes and alternative fuel sources), to construction (towards smart buildings and advanced materials) and manufacturing (towards high-tech, resource efficient production and supply chain).
The clean economy is a growing opportunity for states and regions to spur innovation, create good-paying jobs, achieve environmental goals, attract investment, and tap into the $1.3 trillion global clean energy market.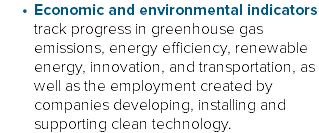 Collaborative Economics is a national leader in helping regions identify and implement strategies to strengthen innovation, productivity, and competitiveness, with the ultimate goal of increasing regional prosperity. We believe that innovation is more than just entrepreneurs and technology startup companies; innovation incorporates a wide range of assets and processes from large corporations and research institutions to network organizations and accelerators. We believe that every economy has unique strengths that can be leveraged to encourage homegrown business start ups and expansions, job growth, and increased prosperity. For more than 30 years, Collaborative Economics has advised regions on innovation-driven strategies that have led to transformative economic results, in regions such as San Diego, Pittsburgh, Long Island and even Silicon Valley itself.
There are three main elements of Collaborative Economics' approach to crafting and executing innovation-driven economic development strategies. The first is facilitating regional, business-led collaboration. Rather than compete with neighboring cities, an integrated regional approach helps to expand and link regional assets, with the sum more compelling than individual parts. Businesses play an essential role in forging regional collaboration and identifying priorities for action, because they make decisions and commit resources based on real-time economic trends and competitiveness. Collaborative Economics helps regions build action teams of private, public, and community partners from across jurisdictions to ensure an authentic regional approach.
The second element is conducting quantitative and qualitative analysis to understand and raise the profile of local innovation assets, as well as identify specific areas for improvement and action. Every region has a unique context and economic profile. Effective innovation-driven strategies build upon a region's history and strengths, and address gaps in the innovation ecosystem that restrain growth. Over 30 years, Collaborative Economics has developed analytical methods and a framework to benchmark trends in innovation assets, such as change in high-skill workforce, investment capital and universities/research institutions, as well as innovation processes, including activity levels around generating patents, connecting research to prototyping and development, commercializing technology and scaling businesses. Our analyses provide a baseline, rationale and recommendations for targeted innovation-driven strategies, as well progress reports on the effectiveness of action.
The third element is designing mechanisms to enhance linkages among innovation assets through "innovation brokers". Silicon Valley is the most dynamic innovation economy in the world because of the constant interactions among researchers, entrepreneurs, investors, talented individuals, existing businesses and supporting institutions, in addition to having a deep reservoir of innovation assets, such as capital and institutions. Most economies benefit from an intentional approach to strengthen these interactions and assets. Collaborative Economics helps regional economies build capacity in innovation assets and develop "innovation brokers", which are individuals or organizations that act as intermediaries to connect people, ideas, and assets.
Collaborative Economics works with regional economic, workforce and industry organizations to develop and execute multifaceted innovation-driven economic development strategies. These strategies incorporate elements such as strengthening talent pool, increasing access to capital/investment, encouraging linkages among anchor companies and startups, and promoting the generation, commercialization and application of ideas and technologies.

Next Generation Stewardship
Championed by Chambers
The key to regional transformation is stewardship: a commitment to place. It's not about programs or funding or legislative advocacy per se, but rather a kind of leadership that transcends geographic, sector, and issue boundaries. It is about building a critical mass of steward leaders, who work together to identify a shared vision and mission of community transformation. And, the impetus for bringing together this kind of leadership is increasingly coming from local and regional chambers across the country.
Why chambers? They have access to top business leaders who are also regional stewards. With the right approach, these leaders can be mobilized as champions, working with chamber staff to build broader regional coalitions for change in a wide range of areas, from economic development to workforce development to K-12 education. Chambers are also enduring organizations, some over a century old, that can sustain breakthrough initiatives.
It is about putting regional stewards from business in the driver's seat, so they own the agenda for change. It doesn't work if the public sector or chamber staff push a pre-determined agenda, or just get "input" and take all the responsibility for moving things forward. Instead, a structured process that focuses on opportunities and requirements for economic and community improvement, and identifies priorities for action with business champions is the key.
This approachthis leadership-building disciplineis our specialty. Our experience in more than 40 regions across the country over the past 30 years has enabled us to hone our approach to identifying, teaming, and supporting stewards. We have written two books that document success stories and lessons learned as these extraordinary leaders have transformed their regions.
We have worked with chambers and economic development corporations across the countryfrom Columbus to Atlanta to Oklahoma City to San Diego, and many more.